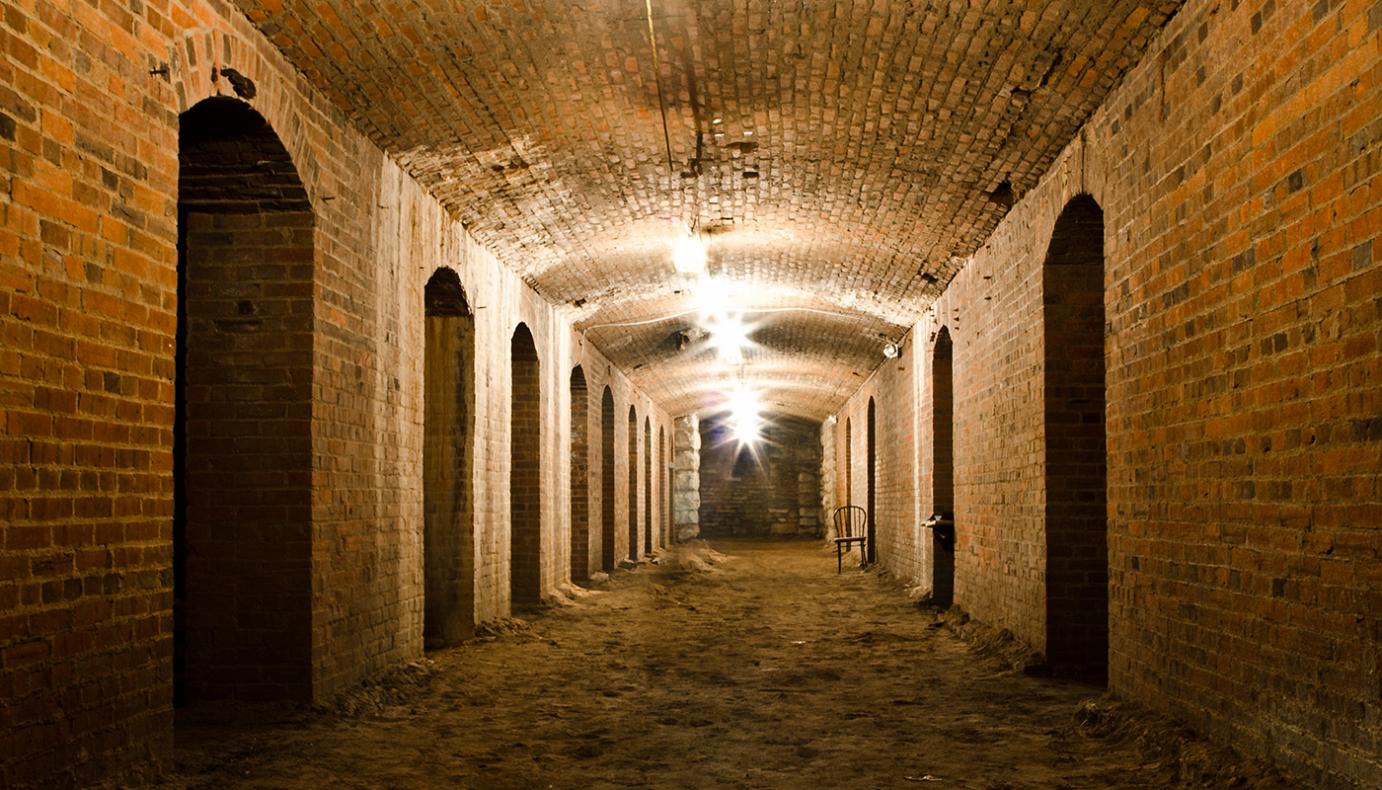 Catacombs Tours – After Hours
Join a guided descent into a long-hidden ruin beneath City Market's Whistler Plaza on this relaxed, adults-only tour.
Explore the City Market Catacombs on this relaxed, adults-only tour, presented by Indiana Landmarks in partnership with Indianapolis City Market.
Meet on the mezzanine of Indianapolis City Market and purchase a beverage for the tour at the nearby Tomlinson Tap Room, before joining the guided descent into a site usually hidden from public view: the Catacombs, a Roman-looking expanse of brick arches beneath Whistler Plaza. Along the way, you'll hear stories of two historic buildings, City Market and Tomlinson Hall.
Our Catacombs don't have bones or crypts—at least none that we know of. But you will see scores of brick barrel-vaulted arches and experience two pieces of historic Indianapolis. The Catacombs are what remains of Tomlinson Hall (1886), an imposing building whose main hall seated more than 3,500 people. Tomlinson Hall burned in January 1958, turning Market Street into an icy lake as firefighters battled the blaze. The city took down the remains later that year and today an arch from the hall is all that remains above ground.
Document your experience by photographing yourself in the space, posing with props and sharing your images on social media with the tag #IndyCityMarketCatacombsTours.
Tours last approximately 45 minutes and depart from near Tomlinson Tap Room on the mezzanine level of Indianapolis City Market, 222 E. Market Street, Indianapolis.
Select Thursdays, August through October 2021, running every 30 minutes beginning at 4:45p.m., with the last tour departing at 7:15 p.m., on the following dates:
August 12 and 26
September 9 and 23
October 7 & 21
Tickets: Tickets are $15/general public, $12/Indiana Landmarks member. Tours are for adults ages 21+ only. Tickets must be purchased in advance by visiting catacombsafterhours2021.eventbrite.com, using the form below, or contacting Indiana Landmarks at 317-639-4534 or reservations@indianalandmarks.org. Refund requests must be received seven days in advance of tour date. If tickets are purchased through Eventbrite, you will receive a partial refund as Eventbrite no longer refunds their processing and service fees. Availability of tours is subject to change, pending safety directives and health concerns. Should changes occur, guests who have already purchased tickets will receive a full refund.