Indy Night Market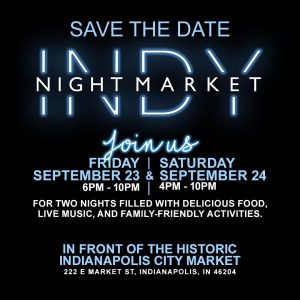 The
Indy Night Market
is a partnership with Growing Places Indy and the Be Nimble Foundation, who are on a mission to enhance and create an equitable food system in our community and foster local entrepreneurship.
The Indy Night Market is a food, arts, and culture festival that brings to life Indy's food scene, including farmers, restaurants, chefs, and food entrepreneurs in one place in the heart of downtown Indianapolis.
This year, the Indy Night Market will be a two-day event on Friday, Sept. 23rd, 6 PM-10 PM and Sat., Sept. 24th from 4 PM-10 PM in the heart of downtown Indianapolis at 222 E Market St right in front of the Indianapolis City Market.