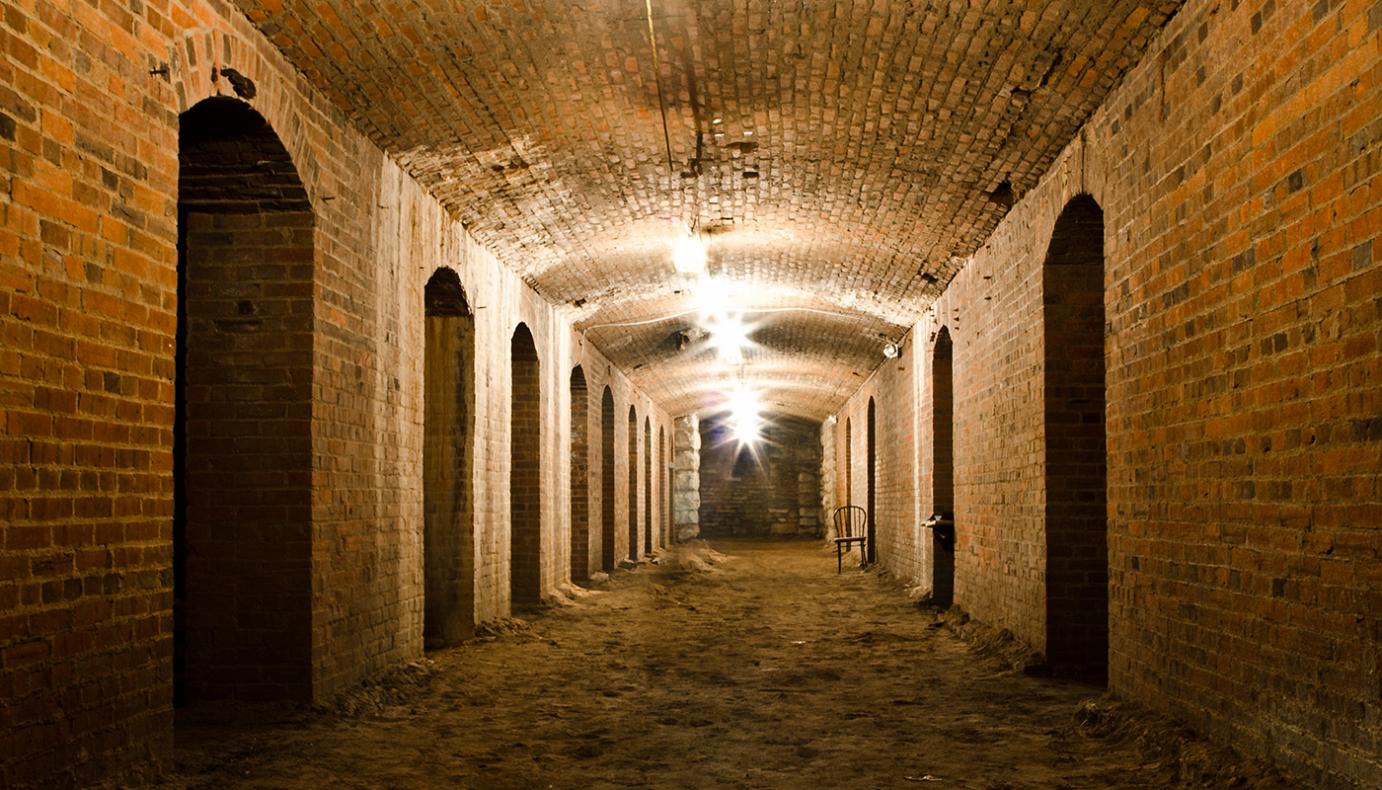 Catacombs Tours – Spring Break
Catacombs Tours – Spring Break
In partnership with Indianapolis City Market, Indiana Landmarks offers guided tours of an unusual site usually hidden from public view. These tours explore the Catacombs, a Roman-looking expanse of brick arches beneath the outdoor Whistler Plaza of City Market. Along the way, guides share stories of two historic buildings, City Market and Tomlinson Hall.
The Catacombs qualify as both a ruin and a redevelopment opportunity. They're what remains of Tomlinson Hall, an imposing building whose main hall seated more than 3,500 people. Tomlinson Hall burned in January 1958. The city took down the remains later that year and today an arch from the hall is all that remains above ground.
Our Catacombs don't have bones or crypts—at least none that we know of—but rather scores of brick barrel-vaulted arches that remain from what was the basement of Tomlinson Hall.
Tours last approximately 30 minutes and depart from the mezzanine (2nd) level of Indianapolis City Market, 222 E. Market Street, Indianapolis.
Join us for special Spring Break tours on:
March 29 and 31
April 5 and 7
Purchase tickets here: catacombs2022.eventbrite.com
Please note: City Market Catacombs are an undeveloped historic asset and are not accessible for all guests. The Catacombs feature an uneven dirt floor. The tour is not navigable for guests with walkers, canes, strollers, or wheelchairs. We recommend closed-toed shoes. The Catacombs are a musty, sometimes damp area. All tourgoers must wear a face covering over their mouth and nose during the tour. Guests are required to sign a waiver of liability to take the Catacombs tour.
Refund requests must be received at least seven days in advance of your tour date. If tickets are purchased through Eventbrite, you will receive a partial refund as Eventbrite no longer refunds their fees.
Frequently Asked Questions: Click HERE to visit our FAQ page.