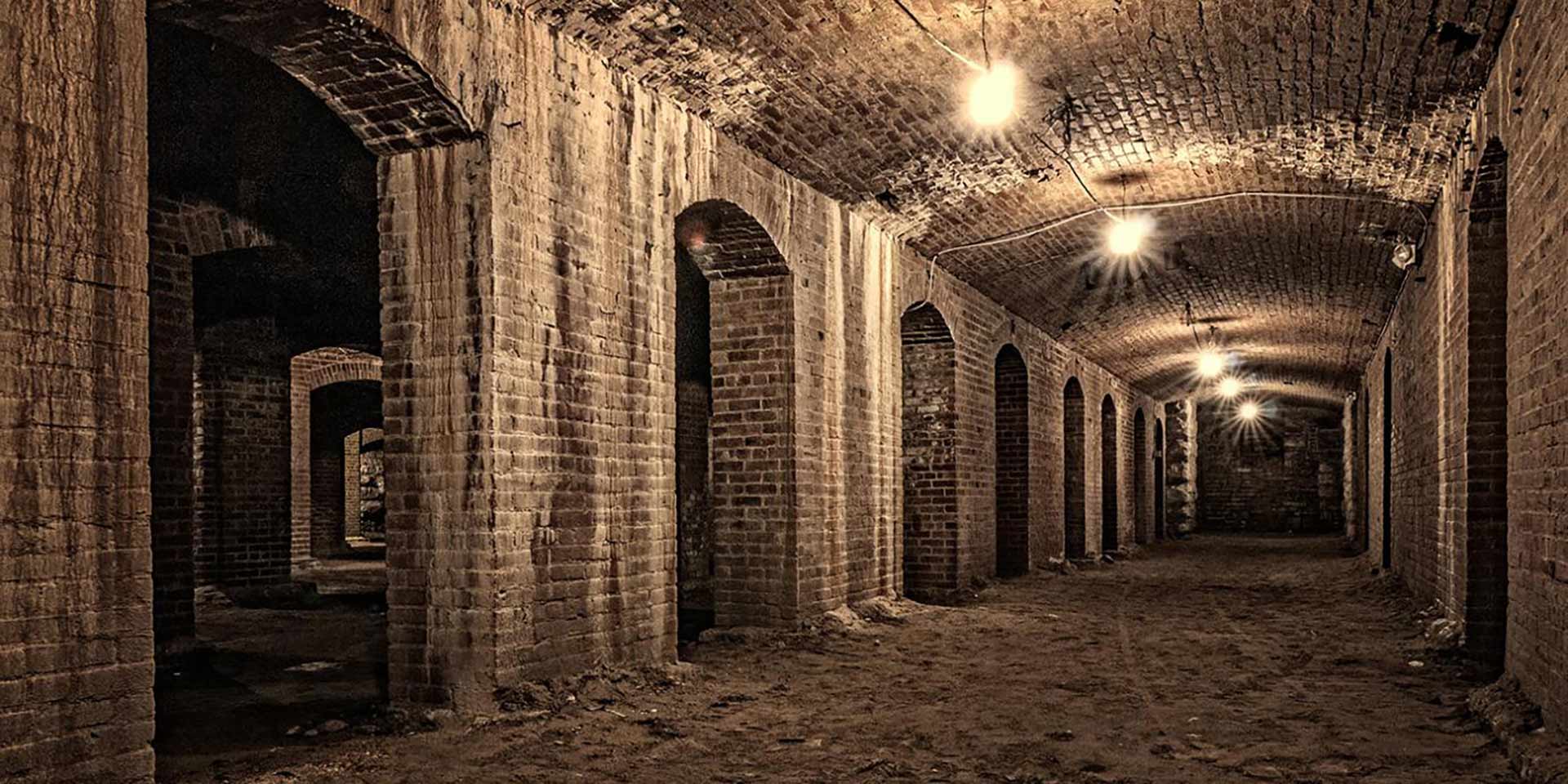 Catacombs Tours
Discover the Secrets of City Market on Our Catacombs Tour
Note: To help prevent the spread of COVID-19, the number of available tickets will be limited to allow for appropriate social distancing. All tour participants must wear a face covering over their mouth and nose at all times during a tour.
In partnership with Indianapolis City Market, Indiana Landmarks offers guided tours of an unusual site hidden from public view. These tours explore the Catacombs, a Roman-looking expanse of brick arches beneath the outdoor Whistler Plaza of City Market. Along the way, guides share stories of two historic buildings, City Market and Tomlinson Hall.
In 1886, the City of Indianapolis constructed two public buildings on Market Street designed by architect Dietrich Bohlen – City Market and Tomlinson Hall. City Market remains a thriving part of the downtown community. Tomlinson Hall, whose main hall seated 3,500 people, disappeared from the cityscape in 1958. Today only its iconic arch and its basement, known as the Catacombs, recall its once vibrant space.
The Catacombs qualify as both a ruin and a redevelopment opportunity. They're what remains of Tomlinson Hall, which burned in January 1958, turning Market Street into an icy lake as firefighters battled the blaze. The city took down the remains later that year. Our Catacombs don't contain bones or crypts—at least none that we know of—but rather scores of brick barrel-vaulted arches.
TOUR SCHEDULE
NOTE: Due to the COVID-19 outbreak, availability of tours is limited and subject to change, pending safety directives and health concerns. We apologize for any inconvenience!
We offer Catacombs tours on select date in April 2021.
April 2
These tours will run every 20 minutes, beginning at 11:40 a.m. The final tour will depart at 1:20 p.m.
Tour are also offered on select Saturdays from May through October. Beginning in May 2021, tours will run every 15 minutes, beginning at 10 a.m., on the following dates:
May 1 and 15
June 5 and 19
July 3 and 17
August 7 and 21
September 4 and 18
October 2, 16, and 30
Tours last approximately 30 minutes and depart from the mezzanine level of Indianapolis City Market, 222 E. Market Street, Indianapolis.
Parking: Park at meters or in garages on the surrounding streets. Market Street is currently undergoing construction, so tourgoers may want to allow for extra travel time.
PURCHASE TICKETS IN ADVANCE
The tour costs $12 per person age 12 and up; $10 per member of Indiana Landmarks; $6 per child (age 6-11); free for children age 5 and under (no strollers).
Secure your spot by purchasing tickets in advance via the form below, by visiting catacombs2021.eventbrite.com, or by calling Indiana Landmarks, 317-639-4534 or reservations@indianalandmarks.org.
A limited number of tickets accommodating walk-ups may be available, dependent upon existing reservations.
If you seek a refund for tickets purchased through Eventbrite, you will receive a partial refund as Eventbrite no longer refunds processing and service fees.